Scenic Parks Explorer
Tour, Escorted tour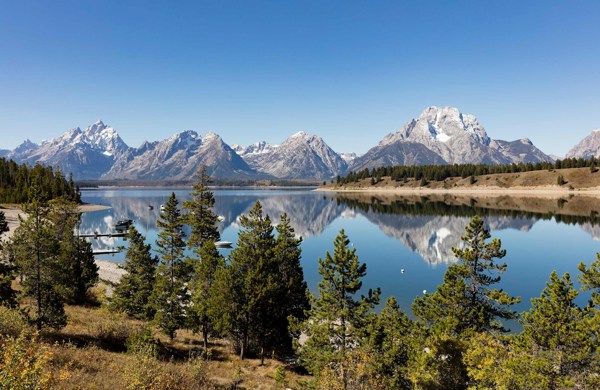 Scenic Parks Explorer
This National Parks tour is an iconic journey, culminating at the Grand Canyon, through Zion's pink cliffs, Monument Valley's imposing mesas, Grand Tetons' alpine landscapes and Mount Rushmore's rock-hewn faces. Hear from a Native American storyteller and overnight in Yellowstone, soaking it all in in just 15 days.
Dining Summary
1 Welcome Reception (WR)
14 Breakfast (B)
2 Lunch (L)
5 Dinner (D)
Be My Guest
Billings: Welcome to old Billings. Learn all about Billing's railroad history during a Be My Guest experience at the historic Billings Depot. Built in 1903 as a hub for three major railroads passing through town, it is now a non-profit organization designed to give you a feel for Billings in the early 1900s. A historian from the nearby Western Heritage Center will be your host for the evening and will share the rail industry's importance to Big Sky Montana. Afterwards, a local chef will delight you with a three-course menu.
: Unlock the local secrets of the land over a meet-and-greet at Field to Fork, an organic fruit and vegetable farm that cultivates 10 acres for vegetable production in addition to a fruit orchard of rare heritage stone and pomme fruit. Welcomed by owners Jessica and Scott, you'll learn about the farm, its history and Jessica and Scott's passion and expertise for organic farming. Then, take a walking tour of the farm discovering horticulture and how they grow organic fruits and vegetables, including a greenhouse and barn tour. Cap off your experience with a meal of crudité, salad, pizza topped with local ingredients and dessert featuring local seasonal fruit.
Dive Into Culture
Grand Canyon National Park: The great outdoors is your classroom today when you meet geologist Canyon Tim for an enlightening talk about the Grand Canyon at the South Rim . Having over 30 years of geological experience, Tim's fascinating talk reveals how this natural marvel was formed millions of years ago and how the different layers that make up the Colorado Plateau are still visible today.
Iconic Experience
Zion National Park: Unlock geological history as you walk the paths and trails of Zion National Park, following in the footsteps of Native Americans and the earliest pioneers. The lush vegetation, wild rivers, roaring waterfalls and towering cliffs of this park will have you reaching for your camera over and over again. You'll even drive through the amazing 1.1-mile, sandstone Zion-Mount Carmel Tunnel built from the late 1920s through 1930, when it was the longest tunnel of its type at the time.
Bryce Canyon National Park: After stopping at Sunset Point this afternoon, Bryce Canyon awaits. You're right in the heart of it all with your accommodations just three miles from the park entrance, maximising the time you'll spend in the park.
Salt Lake City: Get ready for the key features and local secrets of Utah's capital on an orientation tour with your Travel Director. Check out its Mormon center and Temple Square as you delve into the past of its Mormon settlers.
Bryce Canyon National Park: Hello, hoodoos. As you arrive at Bryce Canyon National Park, enjoy seeing the pink, orange and rusty-red limestone spires, known as hoodoos, rise up from the valley floor. Explore the visitor center to learn more about the history and geology of the park before a scenic drive along Bryce Canyon Road with possible stops at Sunrise Point, Sunset Point and Inspiration Point. You'll love seeing how Bryce Canyon, home to the largest collection of these spires in the world, is in a league of its own.
Jackson: Spend the afternoon exploring the charming cowboy town of Jackson, WY. Stroll through the antler archways at Jackson Town Square before heading to the famed Million Dollar Cowboy Bar and grab a seat on a horse saddle. Walk through local art galleries and boutique shops to find the perfect souvenir.
Grand Teton National Park: Head to Grand Teton National Park for sightseeing of its alpine landscapes featuring eight peaks towering 12,000 feet above. At the Craig Thomas Visitor Center, gaze out at the Teton Range rising above. Inside the Center, explore the themes of place, people, preservation, mountaineering and Native Americans as you contemplate the past and future of this park. With your Travel Director enhancing your visit through narrative, drive by Jenny Lake, a glacier-carved lake at the base of the Teton Mountains.
Yellowstone National Park: Yellowstone National Park. A bucket list destination and a must-see icon. Established as America's first National Park by President Grant in 1872, Yellowstone is famous for its hot springs, bubbling mud pots, vast canyons and lush forests and a variety of terrain including alpine mountains, prairies, valleys and waterfalls as well as a diversity of nature including the hydrothermal features. Explore the Southern Loop of Yellowstone with your Travel Director who shows you the must-sees and highlights, paired with background information of this huge, ever-changing national park. See the splendor of the Grand Canyon of Yellowstone, keep an eye out for bison in Hayden Valley, and witness Old Faithful blow off some steam.
Cody: Jump into the playground of the wild west. Glimpse into the "Spirit of the West" at the Buffalo Bill Center for the West Museum complex. Boasting five museums on its campus, this "Smithsonian of the West" will immerse you in the sounds and sights of the Wild West. You'll feel like you've been transported back to a time of cowboys and cowgirls, outlaws and Native American warriors.
Black Hills: Unlock the history of Crazy Horse Memorial. Learn how construction began in 1948 after Henry Standing Bear, a Lakota elder, commissioned Korczak Ziolkowski, who worked on construction of Mount Rushmore. While the original idea was t...
National Parks and Preserves
Imagine unmissable experiences you've always dreamed of, getting to know the locals and having everything taken care of every step of the way.
Here's what you'll experience:
Must-sees to local secrets
Visiting bucket list sites are a highlight of traveling, however, traveling on your own can make them hard work. Don't queue with other sightseers for hours, with Trafalgar our experts unlock doors - think exclusive access to the Vatican out of hours or a tour of Versailles and its grounds with an expert. This, coupled with the intimate glimpses and hidden gems our local specialists show you, are the life-changing experiences that make you feel like an insider, not a tourist.
One-of-a-kind experiences
Thanks to our global network you'll unlock local access to communities and people around the world. Our 100+ Be My Guest experiences are a signature Trafalgar exclusive, where you will enjoy the hospitality of locals as you are welcomed into their homes to hear their stories and learn about their cultures. In every destination, you'll also enjoy unique "Stays with stories" accommodation: more than just a place to rest your head, they are part of the heritage and fabric of the communities you visit.
Everything taken care of
You'll enjoy 24/7 travel expertise and dedicated service at every step. From the moment you arrive in your destination to the moment you depart; everything is taken care of. Our on-road team will provide advice and guidance plus porterage and optional experience bookings. We are also proud to have the endorsement of the World Travel and Tourism Council (WTTC) Safe Travels Stamp, recognizing our wellbeing standards.
Responsible travel at heart
When you choose Trafalgar, you are choosing to make your travels a force for good and support our goal to MAKE TRAVEL MATTER®. We recognize our responsibility to ensure we make a positive impact on the planet we call home, the people we visit, and the rich wildlife we find. We ensure that the impacts of our business and your travels are positive in two ways: through our TreadRight Foundation, and our 5-year sustainability strategy How We Tread Right.